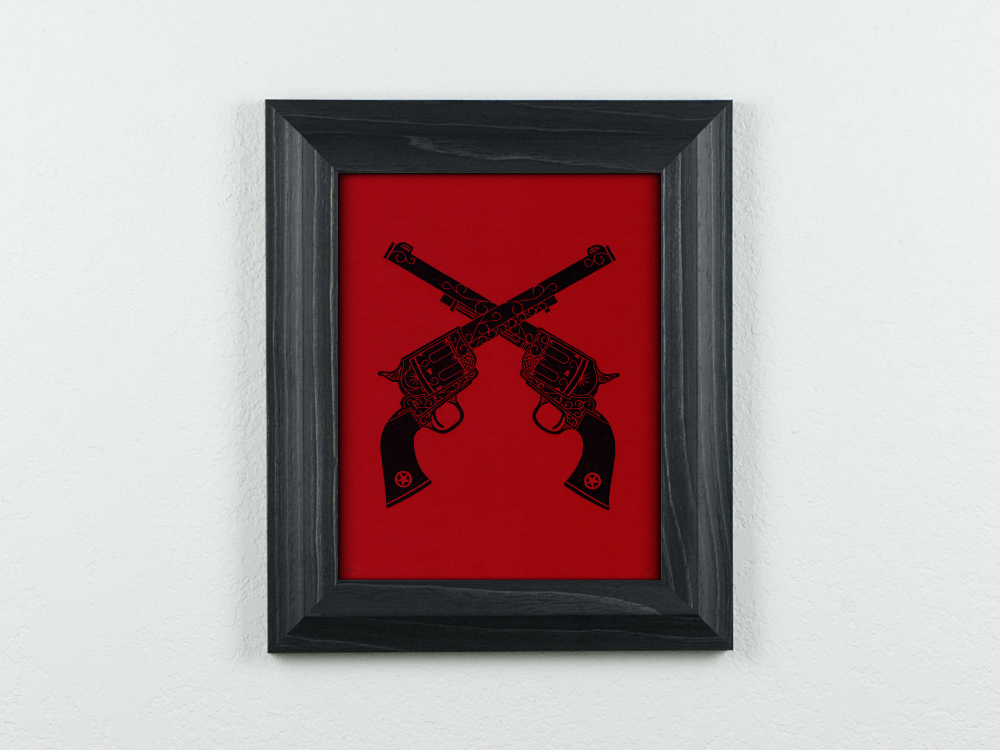 Colt .45 Red
The Colt .45, commonly known as "The Gun that Won the West," was originally designed for the U.S. Military in 1872. Engraved models were extremely rare in the first generation of production and were often owned by high-ranking officers and officials or given as gifts by Samuel Colt.
The red edition is inspired by Texas Tech Red Raider fans and is limited to 20 prints.
This limited edition print is signed and numbered.
Note: Block printing is a type of printmaking in which the block is hand carved, rolled with ink, and then hand pressed. Due to the handmade nature of this product, texture may vary from photo as each print produces a unique texture. Frame not included.
SPECS
Signed and numbered x/20
Single, 8"x10", oil-based, original block print
Printed on Wild Cherry paper
Acid free paper
Comes with a backing board
Fits an 8"x10" frame without a mat, or an 11"x14" frame with an 8"x10" mat
Frame not included
EXTRA INFO
All prints are packed in a clear cellophane sleeve for added protection.
Print is shipped in a sturdy cardboard mailer.
I keep a small stock on hand so odds are your print is ready to go!
Larger orders may require an extra day or two for me to print.