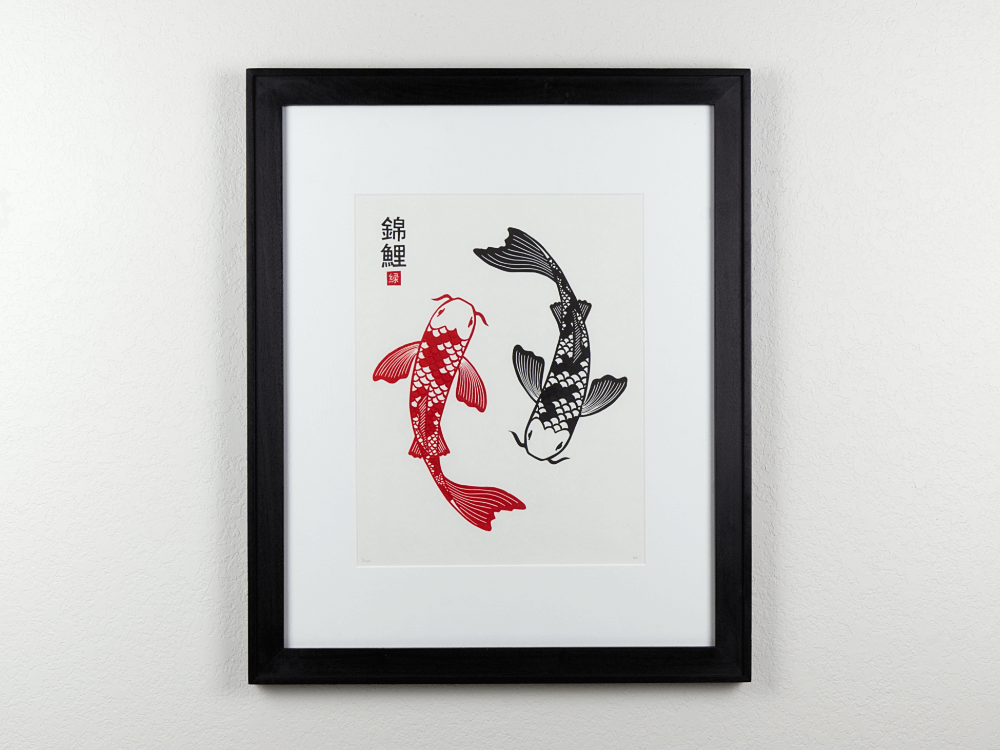 Koi Fish
The Koi fish, or Nishkigoi in Japanese, is a type of ornamental, domesticated carp often raised as a hobby. The Japanese first began selectively breeding Koi for color and pattern in the 1820s. The Koi is a symbol of good fortune, harmony, and longevity.
The black Japanese characters are the symbol for "Nishkigoi" and the red character means "Green" and is symbolic of how the Japanese artists sign their artwork.
This limited edition print is signed and numbered. The scales of the koi are hand finished so each print will have a pattern variation.
Note: Block printing is a type of printmaking in which the block is hand carved, rolled with ink, and then hand pressed. Due to the handmade nature of this product, texture may vary from photo as each print produces a unique texture. Frame not included.
SPECS
Signed and numbered x/100
Single, 11"x14", oil-based, original block print
Printed on handmade Japanese paper
Acid free paper
Comes with a backing board
Fits an 11"x14" frame without a mat, or an 16"x20" frame with an 11"x14" mat
Frame not included
EXTRA INFO
All prints are packed in a clear cellophane sleeve for added protection.
Print is shipped in a sturdy cardboard mailer.
I keep a small stock on hand so odds are your print is ready to go!
Larger orders may require an extra day or two for me to print.